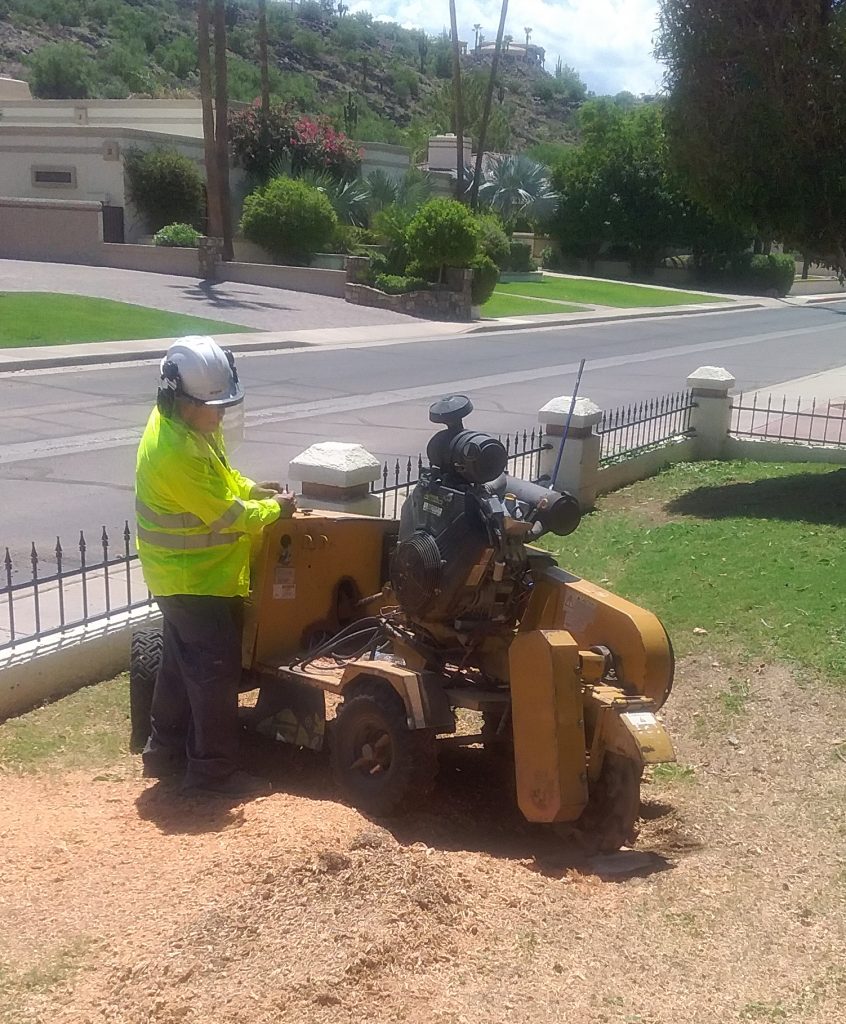 Do you have a tree stump in your yard causing problems? Stumps can make it difficult to mow your lawn, they can attract bugs, and they can even annoy your neighbors because they are ugly.
You have probably received a lot of advice from family, friends, and neighbors. Some say to remove the stump, some say grind it. Some say pour a chemical solution on it, others say paint it and use it as an outdoor table.
You didn't think getting rid of a stump had so many options. All you want is for it to vanish.
There are Phoenix area tree experts that can make that happen.
Below are some of the questions you may have for the pros regarding stump grinding, along with answers.
Why Grind and Not Remove?
Stump removal is a very invasive project. Removing the stump means you are removing the roots that belong to the stump also. Roots can be long, big and running under important fixtures, like your home.
Stump grinding is a simpler process in which a Phoenix arborist will chip away pieces of the stump until it is no longer seen above ground. The amount of chips left behind will depend on the size of the stump. However, many people choose to use the chips as mulch, repurposing instead of wasting them.
How Does Stump Grinding Work?
There is a tool that Phoenix tree experts will use called a stump grinder that has a rotating disc with teeth, which chip away at the stump until it is in pieces. If you don't or can't use the pieces for mulch, the tree company can remove them for you for a small added fee.
Once the stump is removed, you can decide what you want to do with the hole. Some people choose to fill in the hole with dirt and grass seeds. Others choose to plant a new tree in the hole. Some tree specialists can help you plant shrubs that are perfect for the Arizona desert.
It is not a good idea to leave it as an open hole, however.
How Much Does Stump Grinding Cost?
AS with everything else, this can vary per size of your stump, location and tree care service provider. But having said that, in Phoenix, you can expect the service to range from between several hundred dollars to triple that. It really does depend on too many variables.
An estimate is required, and this can often be free for residents needing an arborist.
What Are Benefits to Stump Grinding?
Stump grinding is much more cost-efficient than having a stump and its roots removed. It is also a much quicker process. It's an environmentally friendly service, especially since the stump can be repurposed after it is ground into pieces.
Also, if you leave the stump, you will start to see new baby trees growing all around the stump. As these new trees grow taller, they will steal nutrients from any other plants nearby. If you decide to get rid of the trees later, that could be a costly process.
If you have ever hit a hole or a rock or a stump with the mower, then you know how much damage can happen. Stumps can create big problems for mowers.
Stumps can also be a hazard for cars, bike riders, and people playing in the yard who may trip and fall. Plus, unless you spend time each week getting rid of the weeds around them, they are not going to look good to those who pass by your home. They can quickly become eyesores.
Stumps are usually dead and decaying. When something is decaying, it can attract bugs, like termites and ants, both of which can bring their own set of problems.
DIY Stump Grinding
You may have seen a video that makes stump grinding look easy enough for the beginner DIYer to accomplish it with success. You may have googled instructions on how to get rid of a stump yourself and found all the generic answers, like the ones mentioned above, including chemicals and chainsaws.
It is with great, excessive advisement, do not try this at home.
Stump grinding often involves unexpected hassles. Snakes living under the roots, a chainsaw that goes haywire when it strikes an unseen root, or fire ants disrupted from their work can travel from the stump up your pant leg.
Our Phoenix tree specialists are trained to handle any issues that may arise while grinding a stump. Give us a call today